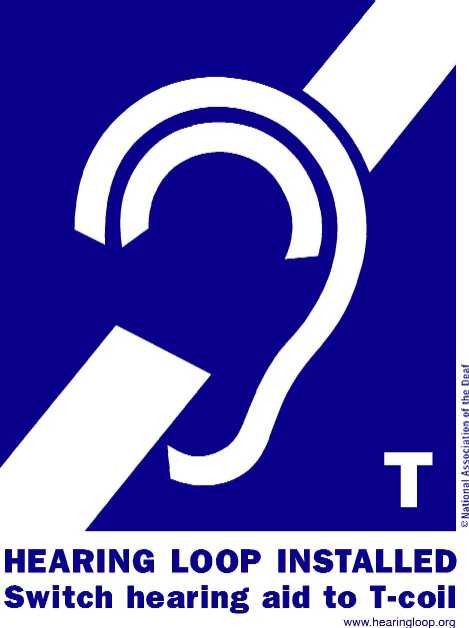 If you wish to contact us please complete the email enquiry form
Please View our Weekly Sheet for service details
Many thanks to everyone who helped and supported our very sucessful SPRING FAIR on Saturday the 16th of May. A fine day help to ensure a good attendance and our Grand Draw with a first prize of £175 was a great hit.
Last Sunday the 24th of May was Whit Sunday when St Georges congregation will be taking part in the annual walk of witness , ending with a United Act of Worship in Armentieres Square in Stalybridge at 2:30pm with other Stalybridge Churches. Please visit out Photo gallery to see pictures of the procession.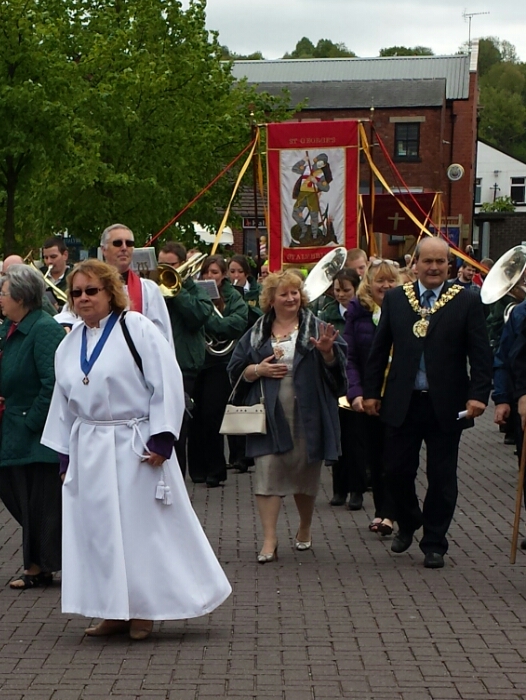 This year is the 175th Anniversary of St George's Church which was dedicated on the 24th of June 1840. The actual parish was originally consecrated in 1776 so is 239 years old.
During the year we will be holding a series of events to celebrate our Anniversary.
Our main events will be over the Anniversary weekend, with an open day on Saturday the 20th of June from 10:00am to 4:00pm when you will be able to look round the historic Church and Graveyard, view old parish registers and listen to music played on our historic organ. Food, toasties and Fair Trade drinks will be available. In the evening there will be a concert given by Tameside Community Voices Choir at 7:15pm. The Bishop of Middleton will preside and preach at our 10:30am Service on Sunday the 21st June and this will be followed by a bring and shared lunch. The day will be rounded off with a 'Songs of Praise' evening service at 6:00pm. Everyone is invited to come and join in any or all of these events.
We are planning to hold monthly events. These started with a parish meal in February (Click here to see pictures), followed by a highly enjoyable evening of Ten-Pin Bowling on 20th March ( Pictures here and here).
Our latest event was an evening on the Glossop Line Folk Train on Thursday 23rd April (St George's Day) which departed from Piccadilly Station via Guide Bridge and alighted at Glossop Station where everyone made their way to Glossop Labour Club for liquid refreshment and entertainment. Talented musicians, Klezmer Collection, played on the train and at the Club featuring traditional Jewish tunes originating from Easern Europe before returning on the 9.37pm from Glossop calling at the same stops.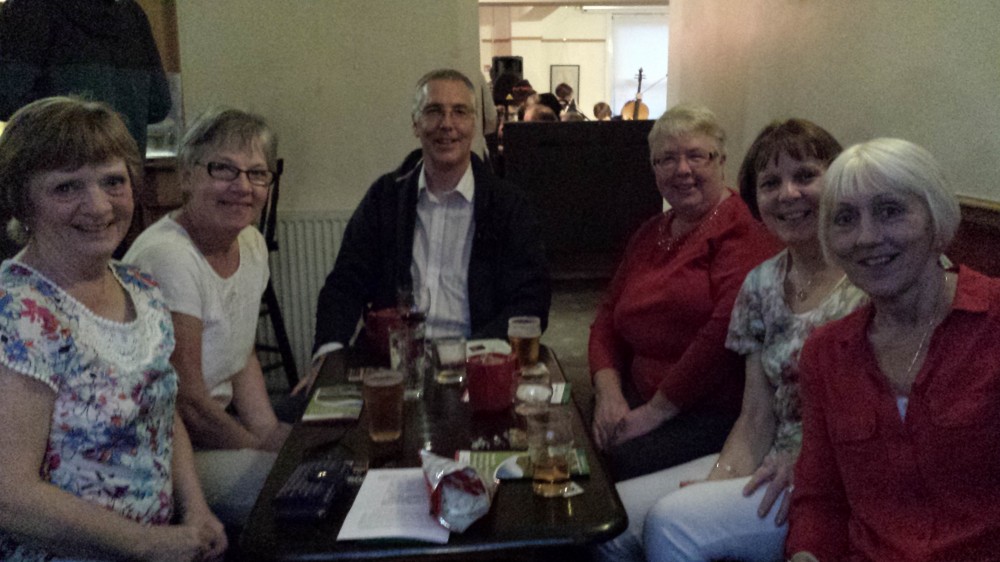 Our next event will be a 'Stalybridge Trail' competition on the 11th of July, ending at Church for a Fair Trade Afternoon tea. All Welcome.
Details of future events will be posted as they become available. We would also like to hold a Rose Queens' reunion as part of our Ladies Day on Saturday the 1st of August and would be pleased to hear from any ex-Rose Queen who would like to take part. Please contact us by e-mail using the form above, or by phone.
Visit our recently updated Rose Queen gallery (on the 'about us' tab), or view our Photo gallery and see if you can recognise old friends. Perhaps you have photos that help fill in the missing Queens? A new gallery of pictures of New St. George's Whit Walks has been created which will also test memories.
St George's Church Stalybridge is a community of Anglican (Church of England) worshippers.

St George's Priest-in-charge is the Revd. Philip Brierley. Philip was an Ordained Local Minister and had been our Curate for many years.

We gather for worship on Sundays and Tuesdays during the week. This is usually for the Eucharist (or Holy Communion) that we believe is the central act of Christian worship.

We also meet in order to be of service to others. This takes different forms:

activities that we run as a church,
things which we do with other groups
all that our congregation members do in their daily lives and occupations.

Our Weekly Services

(Any variations will be detailed on our weekly sheet)

Sunday

8.30 a.m. Holy Communion (2nd & 4th Sunday)

10.30 a.m. Holy Communion and Junior Church

(4th Sunday Worship for All)

6.00 p.m. Occasional Special Services as announced

Tuesday

10.30 a.m. Holy Communion

Sunday & Tuesday Morning Readings

Daily Prayer for today
Morning Prayer
Evening Prayer
Night Prayer (Compline)

Daily Prayer provided by the official Church of England web site,
© The Archbishops' Council of the Church of England, 2002-2004

To receive Communion at home when you are sick or housebound or to have the name of a departed friend or relation entered into the Book of Remembrance, please contact the Clergy or Wardens.

For Baptisms, Marriages or Funerals please 'phone Philip (Priest-in-Charge) on 0161 338 2368

We are a Fairtrade Parish and have promised to serve only Fairly Traded Tea and Coffee and to work for justice for the world's poor.

Our next Fair Trade afternoon tea will be on Saturday the 21st of February. We will be open from 2:00 pm to 4:00pm with refreshments and Fair Trade drinks, and you can buy Fair Trade products from the stall.


Please come along and enjoy a pleasant chat and a look round our Parish Church in its 175th aniversary year and view our memorial plaques and decorative windows. Our Church yard has over 500 headstones dating back to the 1840's and includes several war graves and the memorial to the first MP for Stalybridge.